Make the Changes You Desire
Words, Photos and Tools to Inspire You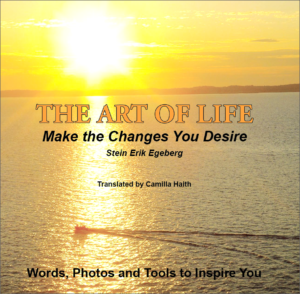 Have you ever wanted to change the course of your life and live your dreams, but you just didn't know where to begin? Did you ever wish that you had your own personal life coach to guide you through the complexities of life? If so, this book is for you. It will provide you with the inspiration, advice and tools you need to effectively navigate your journey through life.
Presenting real life situations which represent common challenges, this book reveals how people who share the same resources and qualities that you possess, have managed to make significant changes and find happiness. Life change and progress require continual inspiration to move forward. Taking the right steps to gain control of your life does not happen overnight. Whether you have read self-help or motivational books before or if this is your first one, this book opens a new dimension of thought and inspiration.
Based on more than twenty years of experience in conducting seminars and coaching in Scandinavia and around the world, Stein Erik Egeberg guides us through successful methods for personality identification, better communication and decision-making. He gives us the tools needed to find more time in our lives and to reach our goals. This book will change your life and increase your joy of life as it inspires you with beautiful photos, effective tasks, and vital tools representing a new era in self-help literature.
Contents
Introduction
The Choice of Path

You and Your Personality

Positive Authorit

See Your Opportunitie

Your Decisions and Positive Influence

Have More Time 

Responsibility for Yourself

How to Reach Your Goals 

You Can Do It! 

Afterword

Summary of Tasks

Author Quotes

External Quotes

Bonus
Preface
This book is dedicated to you who have higher goals and dreams for your life, and desire more insight, understanding and inspiration to make the necessary changes. This book is also dedicated to you who have a good life, but still have goals you want to achieve and dreams still unfulfilled. No matter your present situation, hold on to the image of a life in which you have made the desired changes, have reached your goals and are living your dreams.
Have you ever wished that you had a personal coach who could take your hand, lead the way and not let go? An advisor who would give you increased self-understanding and more knowledge on the way to your goals? Someone who motivates and inspires you to continue on to a successful end? You may not have a personal advisor, but from now on you have this book to coach you, inspire you, and lead you all the way up to your goal. This book is your personal helper. It is here to accompany you all the way. You now have help that you can hold in your hand for as long as you want.
I know neither your specific situation nor your goals and dreams, but the probability is great that your wishes for the future have much in common with the goals and dreams of others. Therefore, the opportunities and challenges faced will also be similar. This book illustrates situations you will recognize coupled with clear solutions you can use. The structure of the book is designed for easy usage. You can have your "helper" at hand at all times. You can easily find just the advice, guidance and tools you require right when you need them.
For more than 20 years as an advisor and trainer, I have had the pleasure of experiencing how people have managed to improve their life situation and turn goals and dreams into reality. Men and women of different ages and backgrounds, with different resources and ambitions have done it. It does not matter where you begin. The most important thing is that you really want a change. If you can dream it, you can achieve it.
The Beatles legend John Lennon claimed that, "Life is what happens to you while you are busy making other plans." Much indicates that he describes the situation of many people.
Before you begin, remember that change is a process. You are not embarking on a time-restricted project. The purpose is to enhance your opportunity to give your life the content you want. Then you will be able to reword John Lennon, so that «life is what you enjoy, while you are making further plans.»
Each chapter opens with a photo. Let the photos inspire you to immerse yourself in deeper contemplation. You will recognize the described situations and challenges from both your private life and working life. You will see what others have learned and how they have made changes. Take the time to think about the reality of your situation. Do not deny the circumstances that leave you unsatisfied in life, but neither should you let unfortunate life experiences block your ability to take advantage of the energy offered in these pages. This is a workbook. Each chapter ends with specific tasks. Performing the tasks is how you will achieve the changes you desire.
As added inspiration you get the opportunity to become better acquainted with yourself. You are invited to take a simple profile analysis that will give you an objective and specific description of your personality profile. The analysis is performed online, and uses the same model presented in Chapter 2, "You and Your Personality". Because you purchased this book, the analysis is free. Log-in information is located at the back of the book.
You can live your dreams, and you are able to make the necessary changes that make it all possible. Believe in yourself, and decide. Today. You are the resource that you have been waiting for. You just need to know how to exploit the attributes you already possess. Just as President Barack Obama said,
"Change will not come if we wait for some other person or some other time. We are the ones we've been waiting for. We are the change that we seek."
Barack Obama


Get started now!